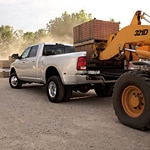 Your Ram 3500 is going to make people sit up and take notice based largely on the exterior that it boasts. It has a fully personalized exterior with fifteen different wheel designs, an easy-to-use tailgate, LED headlights that shine brightly on dark roads to allow you to see better and get where you need to go, and so much more.
People take great pleasure in customizing their Ram 3500 to make it just what they want it to be. They don't worry about how it is going to look in the end, because they know they can design it from the ground up just how they want it.
The tailgate release button on the key fob is a favorite of most drivers. They appreciate that they can just hit that button twice and the tailgate releases automatically for them. That makes getting what they need in the bed of the truck a lot easier. Enjoy that and so many other features with the Ram 3500.